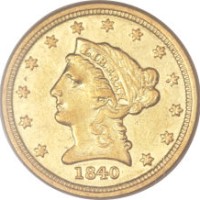 1955 Cash Register Discovery Yields High-Grade Gold Coin – NGC Grades 1840-C $2.50 Quarter Eagle AU-58
By Emily Mullins
COIN WORLD Staff
Les Russell's first coin show was the kind that many collectors can only dream about, for here he was considering selling his 1840-C Coronet quarter eagle to many interested buyers. The way in which Russell obtained the coin more than a half century ago is also a story that most collectors can only dream about.
As owner of the Dari-Bar Confectionary and Restaurant in Milan, Ohio, Russell said he arrived at work very early one morning in 1955 to discover a strange looking coin in the dime compartment of the cash register drawer.
"At first I thought it was just a discolored dime," Russell told Coin World. "But as a collector of gold coins, I soon realized that it was a two-and-a-half dollar gold coin upon further inspection."
Russell took the gold coin home, wrapped it in plastic and placed it in his collection.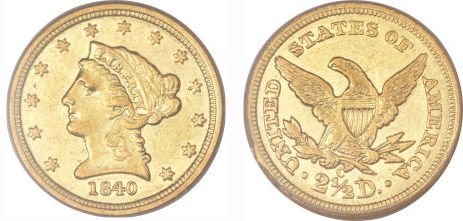 According to Russell, the Ohio Turnpike was under construction at the time, and a number of workers on the turnpike were staying in the area. The coin might have come from one of them, he believes.
Many years later, Russell purchased another quarter eagle to add to his collection, for $1,000 , a price that made him think his coin might be worth a similar amount.
However, his discovered quarter sized eagle was never professionally analyzed until April, when Russell contacted Jim Schaefer of North Coast Coins in Sandusky, Ohio, to help him liquidate his 80-plus gold coin collection.
They sent the coin to the Numismatic Guaranty Corp. for a grading, and it was returned with a grade of About Uncirculated 58.
Shaefer told Coin World, "It's a very scarce coin at this grade level."
Mintage for the coin was 12,822. The Charlotte Mint struck the piece.
According to Shaefer, the coin is valued around $6,000.
At the Central States Numismatic Society's 67th Anniversary Convention, his first coin show, Russell was unsure of exactly what he was going to do with his 1840-C Coronet quarter eagle.
According to Schaefer, they planned to show it to a number of dealers.
"I'm too old to collect anymore," Russell told Coin World. "But it's been a neat coin to own."