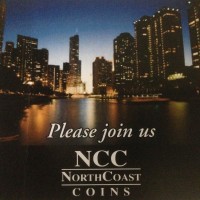 On August 16th NCC hosted a cocktail party for their clients in conjunction with ANA "The World's Fair of Money" in Rosemont, Ill on August 16th at the Terrace at the Trump on 16 at the Trump Hotel and Tower downtown Chicago. This was a great event with spectacular views of the Chicago skyline and fun for all, with cocktails and appetizers for those who managed to fight the traffic from Rosemont to downtown Chicago after the show on Friday.
All who attended had a great time, not only with good weather and views, but with lively coin collecting conversation which was spurred on by a slide show presentation of some of Jim's personal collection of the NorthCoast Collection of rare coins, currency, and silver collectables. See some photos of the collection shown attached with this story below.
We would like to thank Mauricio and his staff at 16 for making this event a great success. Also, a big thanks to Ed and Theresa who made the trip from Cincinnati, OH to attend the show.