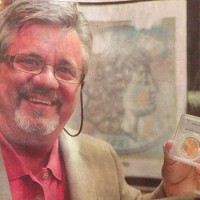 Jim Shaefer of Northcoast Coins was recently featured in an article by the award winning newspaper, The Sandusky Register, about Coin Collecting. If you have questions or comments about this article, please use the comment section below the article.
Written by Melissa Topey
Sandusky Register
Decades later, a father and his son are still finding camaraderie in their love of rare coins.
Jeff remembers his teen years, when every Saturday he and his father would head to Amherst, where they'd set up a stand at Jamie's Flea Market on Ohio 113.
To this day, he and his father still participate in coin clubs in Norwalk and Findlay.
"I enjoy it," Jeff said. "I get to spend time with my father."
Jeff asked not to be identified because of his coin collection.
Jeff, a coin collector since the early 1980's, typically selects coins that have unique artwork or other features – something that simply catches his eye, perhaps.
Usually, the older coins sort of jump out. "I don't like the Sacagawea," Jeff said.
Not many people do. The Sacagawea and the Susan B. Anthony coins have been failures with the general public.
Plus, he isn't one to collect for profit. He simply relishes the process, considering himself a "type" who collects coins from a collecting based solely on date and mintmark.
"Everyone has a hobby," he said. "I enjoy collecting."
While he recommends the hobby to anyone, Jeff said people should be careful to use only reputable dealers and never purchase off the Internet because there's no way to ensure quality or authenticity.
Among local dealers, Jim Shaefer is well known. He owns NorthCoast Coins, where he offers appraisals and buys and sells U.S. coins and currency.
Schaefer started collecting when he was 9 years old, after a friend showed him a 1798 large cent.
"The history of our country is depicted in coins," Schaefer said.
Schaefer said, in his experience, most collectors are older, and they often use the hobby as an investment of sorts to offset losses in other investments, such as 401k plans or bank accounts that offer low interest rates.
His advice for those starting to collect: Look for collections passed on by inheritance, and go to plenty of coin shows. Also, look to a professional before selling, as they can give a good second opinion.